In the legacy of building: A look at DPWH's accomplishments under the 'Build, Build, Build' program
In just four years, the DPWH completed the construction, rehabilitation and improvement of 26,494 kilometers of roads, 5,555 bridges and 10,376 flood-mitigation structures,  from July 2016 to December 2020.
As the Duterte administration enters its final year, its "Build, Build, Build" (BBB) program emerges as one of the term's lasting legacies. Projects under the ambitious campaign continue to make progress amid the COVID-19 pandemic and by 2022, 40 of these big-ticket infrastructures will be coming to fruition when the President steps down.
The Department of Public Works and Highways (DPWH), one of the flagship projects' major supporters, has completed several infrastructure projects nationwide despite the challenges posed by the pandemic.
With a bigger P2,536.5-billion budget under the Duterte administration, the DPWH completed the construction, rehabilitation and improvement of 26,494 kilometers of roads, 5,555 bridges and 10,376 flood-mitigation structures, from July 2016 to December 2020. These infrastructure projects were created to improve traffic and make the country's roads safer.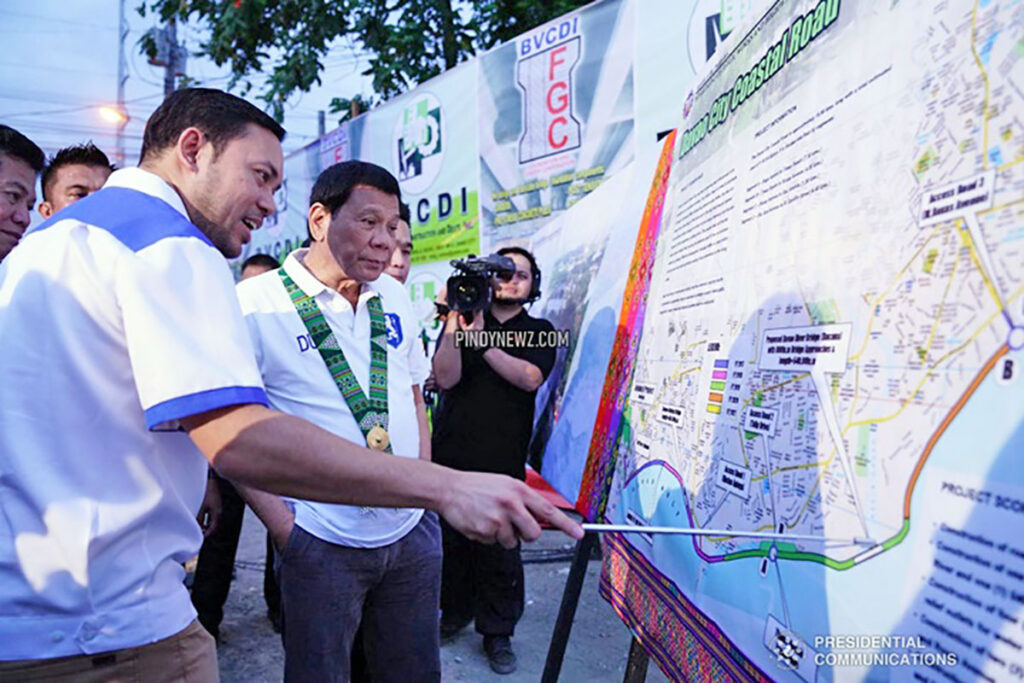 In addition, a total of 144,925 classrooms, 2,036 school facilities, and 187 construction centers were built and constructed by the four-year mark. All these accomplishments have been made possible by the 6.5 million workers employed under the campaign.
Eyeing progress
"In one month, we will open the Pantaleon-Estrella Bridge, which will connect Makati and Mandaluyong within 12 minutes. Before the President's term ends, we will have completed the construction of several big-ticket projects, including the Kalayaan Bridge linking Taguig and Pasig, Binondo-Intramuros Bridge, Mindanao Avenue Extension, Katipunan Avenue Extension, and the NLEX-SLEX Connector project, which will connect Skyway Stage 3 and NLEX Harbor Link," said Public Works Secretary Mark Villar in a press conference last June 19.
Also part of the agency's Metro Manila Logistics Improvement Program are bridges, including the Sta. Monica-Lawton Bridge, which will reduce travel time between Bonifacio Global City and Ortigas to 12 minutes; Binondo-Intramuros Bridge, which will divert 29,992 vehicles from Roxas Jr. Bridge and Jonas Bridge.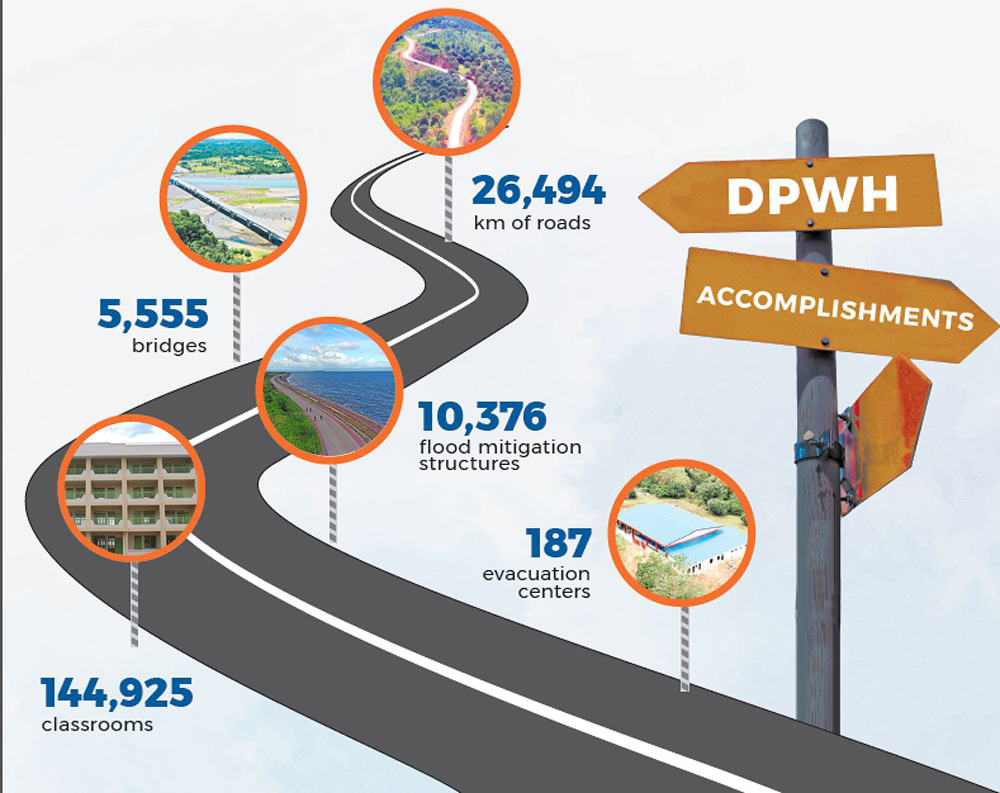 In other parts of the country, the DPWH is creating more highways like the Luzon Spine Expressway Network, Metro Cebu Expressway, Davao City Expressway, Davao City Bypass Road, Davao City Coastal Road, and more.
We heal as one
Amid the pandemic, the DPWH ran its Evacuation Center Development Program, which constructed evacuation centers, health and quarantine facilities that house persons under investigation (PUI) or persons under monitoring (PUM) due to COVID-19. The We Heal As One Center currently has 653 facilities including isolation community quarantine facilities, isolation facilities, off-site dormitories, and modular hospitals. This program is set to create a total of 728 quarantine facilities that can accommodate 24,420 people, 53 off-site dormitories that will house 1,292 individuals, and 24 off-site modular hospitals with 547 beds that will serve patients.
SOURCE: https://propertyreport.ph/news-and-events/2021/07/09/21245/in-the-legacy-of-building-a-look-at-dpwhs-accomplishments-under-the-build-build-build-program/?fbclid=IwAR39n7UtdZ5rzXLF_B-rFuDiT85UGmjfu3pYuR82L0DL-BRWj13bJqm79I8